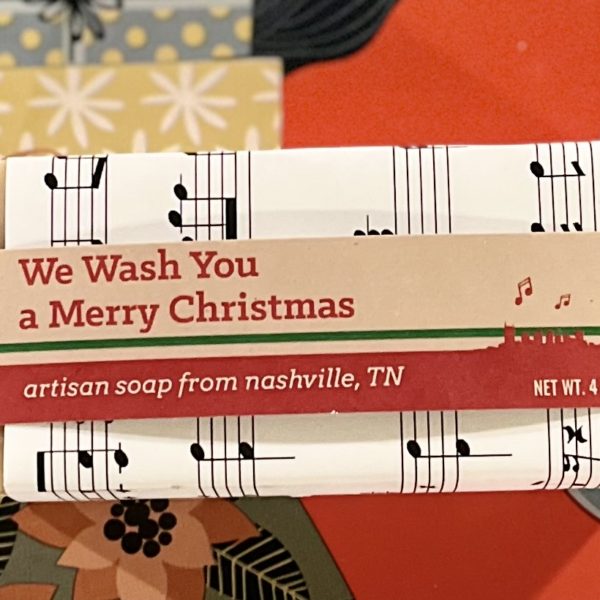 We Wash You a Merry Christmas
19 in stock
Have yourself a Tender Tennessee Christmas! We're proud to debut our very first holiday soap with We Wash You a Merry Christmas. We pulled out all the stops on this one, throwing in some super luxurious ingredients like organic virgin coconut oil (I wish you could have smelled this stuff. Swoon!), glacial clay, and frankincense essential oil. You're expecting something peppermint or pine tree-y or cinnamony, aren't you? Not with us ! Read below the ingredient list to see our formulator's inspiration for this soap.
We only made one batch of We Wash You a Merry Christmas, so when it's gone, it's gone for good.
Ingredients: coconut oil, olive oil, palm oil, sunflower oil, water, sodium hydroxide (lye), hibiscus tea, glacial clay, essential oil
Rachel, our formulator, explains herself.
This soap has been turning itself over in my brain for years now. We've kicked around the idea of a holiday soap, but never actually made one. By the time we get our acts together after summer, it's time to dive into regular holiday production. This year is our year, though! We Wash You a Merry Christmas is born!
For Christmas scents, I feel like they're all pretty much the same. You have the kitchen smells: cinnamon, vanilla, clove. They remind us of baked goods and grandma and the warm glow of an oven. Then you have cool mints, like peppermint, and finally evergreen. Most scented holiday products fall into one of those categories, right? I wanted something completely different and a little off-the-wall…like us, really.
The scent of this soap is inspired by Christmas stockings. It's a complex scent and very untraditional, so I'll explain myself. When you first sniff it, you get hit on the nose with candy. My stocking was always brimming with sweet treats when I was a kid. Here you get black licorice, Queen Anne's cherries, marzipan. But then the smell deepens, and you get a whiff of a hand-carved toy or maybe it's a new paperback book. Then the scent of the stocking itself: rough fabric steeped in years and years of Christmas mornings. Finally, you detect the slightest hint of wood from the mantel the stocking was hanging on. I've been turning this scent over and over in my head for a long time, and I'm so happy with the way it turned out. It's a very personal scent for me, and it's pretty out there. I hope y'all like it.
For the other additives in the soap, I channeled the big man in red, Mr. Claus. I've had a packet of glacial clay in the studio for a long time, and I couldn't figure out what to do with it. When we started tinkering with the idea of this soap, though, I knew it had to go here. I can't say for certain that it didn't not come from the North Pole. (Actually I can. It's from New Zealand.) But glaciers make me think of Santa and his workshop, warm fires in the fireplace, sparkling white snow and ice surrounding them outside. Solitude and silence. We also made a hibiscus tea for the water replacement in this batch. Hibiscus tea is this beautiful, rich red color. It sparkles like a bowl full of jelly. When it hits lye, however, it turns to a creamy chocolatey milky color. Cocoa with too many marshmallows. Reindeer antlers.
I hope you enjoy this soap half as much as we enjoyed making it. We really had a good time with this one, channeling all kinds of Christmas cheer. Happy holidays, y'all!